The Underwear
The first thought I had yesterday when I saw Saddam Hussain's naked picture was about the make of his underwear. The thought itself will not be strange when I tell you why I was thinking of the underwear and not the political or humanity aspects of Saddam's human right or whatever you want to call it.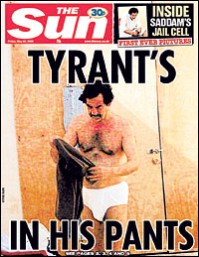 Approximately two months ago, a friend of mind showed me the store which Queen Elizabeth purchases her underwear from. When I glanced at the store, I was able to tell how much it would cost you to get underwear. Few weeks later, I had to shop with two friends of mine in one of the biggest stores in London. While I was in the underwear section, I noticed how the underwear where kept in nice boxes; the type of boxes that you would probably see in chocolates or gift stores. Although, I wasn't intending to buy any but thought of looking around and feel the materials that were made from. In few seconds, a sales assistance popped up and offered to help. The first question he asked: What sort of underwear are you looking for? Are you looking for left hang or right hang? Ummm "What are you talking about?" was my reply on him. The sales assistance noticed that I didn't have a clue of what a "left or right hang" was and maybe he looked at me and noticed my Arabian look and thought about my stupidity, and therefore, he came forward couple of steps and gave me a presentation about underwears as he was a researcher in the underwear department of University of London. He taught me things that I didn't have a clue about and I assure you no one from the middle or lower class would even know anything about them. Has anyone thought of where he would place his eggs when wearing underwear or about ventilation?

Once he finished his lecture, I dared and asked him about the people who would afford to pay 500 pounds (300 BD) for underwear. The salesman didn't take a second to think and gave me couple of Arab princes who were regular customers. I said to myself: Ok so this means Prince X wears the right hang type. But curiosity kills the cat. I was thinking about the royal family in wonderland. What type of underwear do they wear? To explain the point, the question should be, what is their life style? Where do they go shopping and how much would they spend? Don't we have the right to know?

Information about Gorge Bush (the president of the United States), for example, are publicly available. We know how much he gets paid, where he goes to play golf. Clinton (ex-president) once was questioned by the Congress because he spent hundred dollars in a barbar shop which the Congress found waste of money. Don't we have the right to question our royal family for their personal spending which I am sure it is covered by the government budget?! Well, maybe I am loosing my brain on this..

Clinton, in his book My Life, approaches the story of his youth with gusto, sharing tales of giant watermelons, nine-pound tumors, a charging ram, famous mobsters and jazz musicians, and a BB gun standoff. He offers an equally energetic portrait of American history, pop culture, and the evolving political landscape, covering the historical events that shaped his early years and the events that shaped his presidency.

Five million copies, I repeat, Five million copies of My Life were sold making a fortune of at least Five Million Dollars (if we assume that each copy was sold for a dollar). Why don't the members of the royal family start writing their autobiography then? They will make a fortune too..What I am talking about?!! They don't need an extra income. They already own the country and everything in the country.